So here we are again, back in Niagara Falls with Jaye's next talking figure assignment. This episode of Wonderfalls was very strange when compared to the previous two, but was also very "Bryan Fuller" if you know what I mean.
To start Jaye off this time, her mother has published a new book to which Jaye is  – rather upsettingly – snubbed in the "About the Author" blurb. Still is something of a mood, Jaye doesn't even notice that her wallet is stolen by our character-of-the-week, Bianca. Lucky for Jaye, she meets with Bianca in the store the next day when she returns the wallet and apologizes for it profusely. Of course, the exchange is plagued by Bianca's horrible stutter thus prompting a stuffed chameleon to tell Jaye to "Get her words out". After Bianca knocks over a stack of shirts and folds them with super human speed, Jaye takes in upon herself to get this lost soul hired and free of her stutter.
Things go well, at first, and Jaye becomes rather fond of this girl who appears to admire her despite being 24 and unsuccessful. However, this happy feeling is not meant to last as Jaye comes to work and finds her charge now looks exactly like her and has even adopted several of her mannerisms!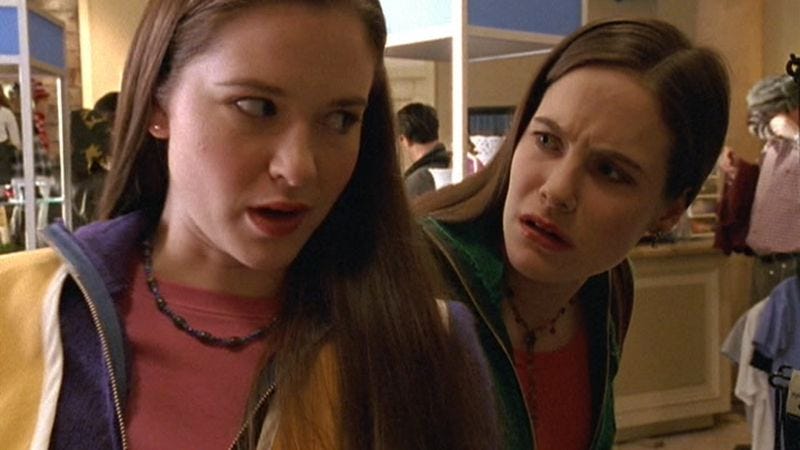 This is where the episode gets weirdly dark and uncomfortable as Bianca begins to literally "Single White Female" Jaye. For those unfamiliar with the 1992 thriller used in this metaphor, Bianca is very much doing everything she can to become Jaye. Naturally, her friends don't buy it and even Eric – our sexy bartender friend for those of us who are terrible with character names – only start to think that it's Jaye who is the crazy one.
For a show that is honest so much fun, this was definitely a darker turn that almost felt out of place with the rest of the show so far. When Jaye finds all of the photos arranged in a very creepy, very obsessive, manner around Bianca's van, it's genuinely creepy. It's almost reminiscent to Hannibal moments such as Hannibal discovering Beverly in the basement or Will discovering Freddie snooping around the barn.
Much the the surprise of people trying to keep track of the number of plot twists in this episode, it turns out that Bianca is actually a reporter trying to write about unsuccessful Gen Y life and thought that "becoming" Jaye – the perfect example of the generation – she will be able to have a better idea of her topic. Too bad for Jaye, Bianca decides that not giving a crap is far less stressful than working to being successful.
As per usual, I won't give away the ending but my main take away from it was that Jaye is capable of so much more than she gives herself credit for and it is truly sad that she feels so unable to apply herself to anything of true meaning that she just hates everyone around her in a tourist trap knick-knack store.
This hasn't been my favourite episode so far, and I am very much hoping the next episode is slightly less depressing and creepy. Fingers crossed for "Wound Up Penguin".